One of the tasks of ACS AllCtrl.SCADA based on 1C is dispatching of equipment operation in real-time. On graphical schemes (mnemonic diagrams), which display all hardware of a specific subsystem, it is best to monitor its current parameters and links to other hardware, such as temperature, power, and so on.
Mnemonic diagrams visualize the controlled and managed processes, make it easier to identify and find the information you need, and help an operator to immediately make the correct decisions.
Mnemonic diagram displays the system diagram as a whole and the relationship between the core system objects, provides detailed information on the state of the individual parts.
By registering the movement of transfer function through a production process (roadmap), it is possible to commit the time of the technological operations, equipment downtime, and build different analytic reports in real time with data for the employees performing the operation.
Mnemonic diagrams help an operator who encounters a large amount of material to make it easier to find information. The ability to see real data about the parameters of a production object makes it easier to organize and process the incoming information, helps to perform technical diagnostics when there are deviations from the norm, and improves the efficiency of the operator's decision-making.
Thus, mnemonic diagram is a necessary source of information on the state of the system in real time, progress and structure of processes, violations of set modes, downtime of equipment and emergency cases.
Mnemonic diagram of ventilation system in the building, a business centre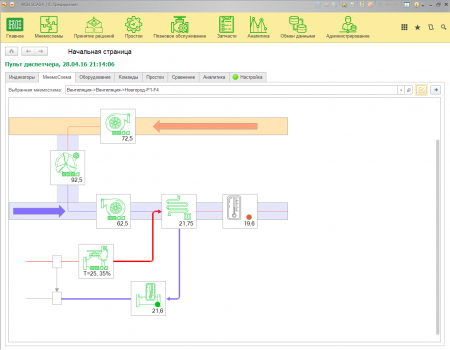 Mnemonic diagram of the production process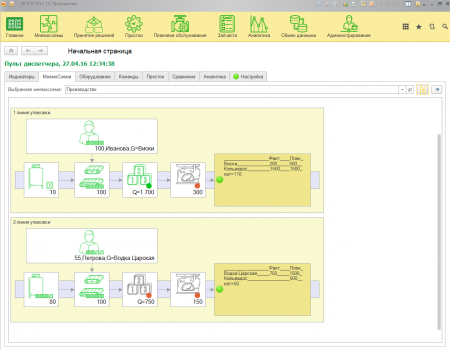 Video example of how the AllCtrl.SCADA system (ACS, MRO) based on 1С works