Downtime of almost any equipment is critical to any business. Implementation of MRO, module of ACS AllCtrl.SCADA on the basis of 1C:Enterprise allows both for the registration, monitoring and analysis of downtime and for reducing the equipment uptime by 25% through routine maintenance of equipment.
Spare parts requirements planning, work of staff under the MRO (AllCtrl.SCADA) allow to reduce the recovery time of the equipment after the failure by 10%. As a result, regular scheduled maintenance costs are significantly lower than the cost of repairs in the post-accident period.
Planning and preventive repairs allow to reduce the likelihood of sudden equipment failure, reduce the setup time of the equipment (as it is known in advance when it will fail, and you can prepare for the repair), thereby reducing the repair costs.
Reducing the recovery time of the equipment after the failure is achieved, including through registration of equipment downtime and automatic generation of job orders, as by own services and by third-party contractors to rectify the causes of downtime, as well as through timely notifications about the occurring events via SMS, PUSH, e-mail or messages in the system.
The system database stores information about downtimes, which serves as a basis to create equipment performance reports.
MRO module of ACS AllCtrl.SCADA based on 1C:Enterprise visualises such indicators as:
Dynamics pattern of downtime value by type and efficiency.

Comparison of planned production figures and actual output.

The size of downtime by groups.

Reporting on output, equipment disposal %.

Downtime Gantt chart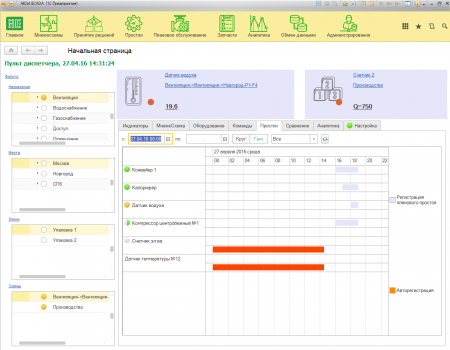 Hardware downtime Analysis chart, by reasons of downtime